Let us rid your home & business of Covid-19, bacteria, and allergens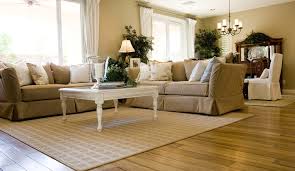 This disease has caused complete havoc all over the world, but especially here in Georgia.  But you can get some relief knowing you're going inside a clean home or office.  We have teamed up with some of the leading cleaning equipment companies to kill this virus as well as all the bacteria, allergens, and dust mites that keep you and your family sick.
Certified to use 3 Devices
Hygienetech's Mattress Cleaning System

Hygienetech's UV Light Disinfection System

Home & Office Fogging and Disinfection System
Read Below For More Information
Hygienetech's Mattress Cleaning System
One out of every four people suffer from some type of allergy and the numbers are increasing all of the time.  We all live indoors and it is a fact the indoor pollution is often more dangerous than outdoor pollution.
The Hygienitech eco-friendly, dry, chemical free process will eliminate allergens and bacteria from carpets, mattresses, upholstered items and just about any type of surface that people come in contact with every day, whether at home, at business or any type of multi bed facility.
Since it is a dry process, all items can be used immediately after the service is performed.  Plus, you won't have to leave while we conduct the service. Everyone, but especially allergy sufferers need more than an air purifier to clean the air, they need this equipment to kill the allergens, bacteria, and Covid-19 germs that live inside the mattress, the toys, the sofa cushions, and etc.  Air purifiers are not effective in sanitizing the things we come in contact with everyday, especially the mattresses that we all sleep on.
The mattress cleaning system looks like a vacuum but it's suction is at least 10 times stronger.  It pulls out what's on the inside including the microscopic things like dust mites.  Plus, it's paired with a UV-C light on the bottom that kills everything it comes in contact with including Covid-19.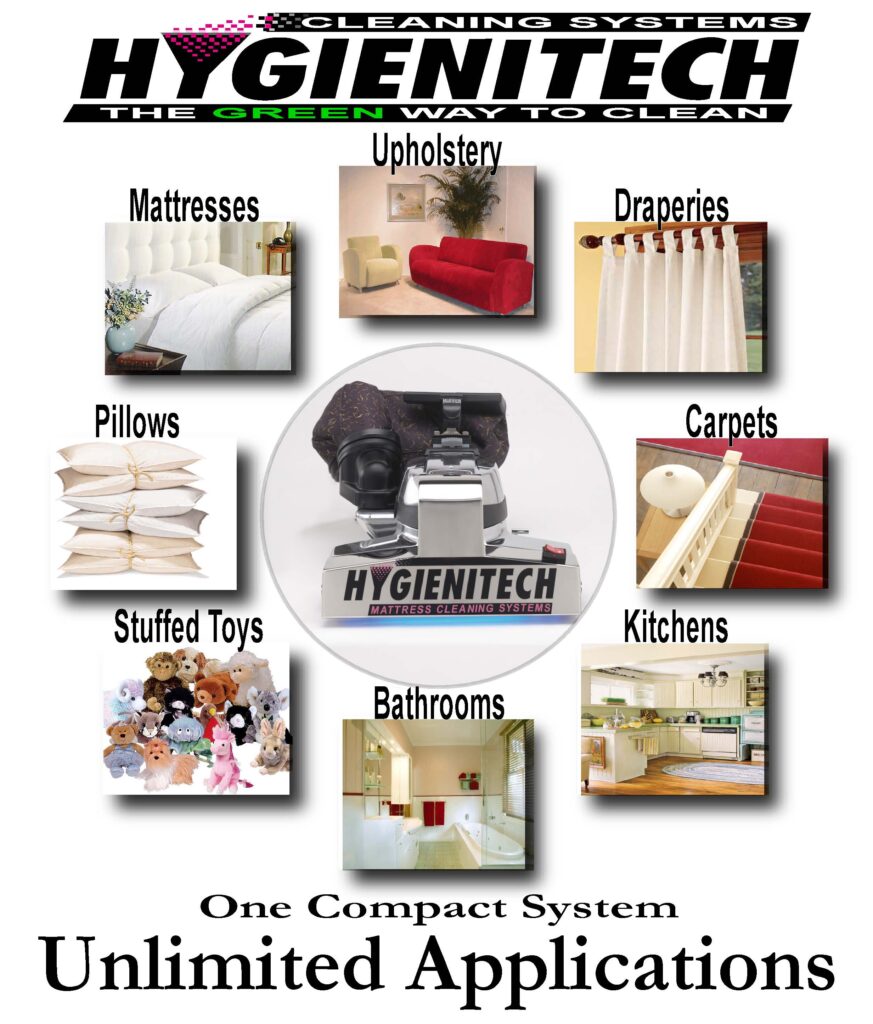 Hygienetech's UV Light Disinfection System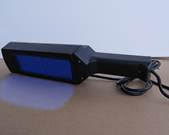 Researchers at Columbia University have been working on uses for UV Light for years, and the current pandemic could confirm the value of their efforts.
UV-C lamps have long been used to kill bacteria, viruses and molds, notably in hospitals and in the food-processing industry. As the coronavirus pandemic knocks world economies on their heels, this technology is experiencing a boom.
UV-C light is germicidal and an extremely low-grade ultra violet radiation that targets and deactivates the DNA of dust mites and other microorganisms, thus destroying their ability to multiply and cause disease. 
Specifically, UV-C light causes damage to the nucleic acid of microorganisms by forming covalent bonds between certain adjacent bases in the DNA. The formation of such bonds prevent the DNA from being unzipped for replication, and the organism is unable to reproduce. In fact, when the organism tries to replicate, it dies.
Commercial & Residential Fogging and Disinfection System
What We Use.
The fogging system we use, uses a liquid called Hypochlorous Acid.  Hypochlorous Acid is nature's oldest cleaner. It's in the same family of chemicals as bleach but it's much better. In fact, It's the main substance that your white blood cells produce to fight off infections. YES! IT CAN BE FOUND INSIDE YOUR BODY!
How is Hypochlorous Acid Made?
It is produced when the correct proportions of salt (NaCl) and water (H2O) are electrolyzed, or the application of an electric current through the solution!
Hypochlorous Acid as a Cleaner
Hypochlorous Acid is about 80x more effective than bleach! Making it the perfect cleaner for every situation.
UP TO 80x MORE EFFECTIVE THAN BLEACH & NON-CORROSIVE
Petra ULV500 Professional Surface Cleaner is the result of an advanced production technology that produces Hypochlorous Acid (HOCl) – one of the best germ eliminators known to mankind. HOCl has been used for nearly 200 years and has been shown to be up to 80 times more effective than bleach.
POWERHOUSE CLEANER
Petra ULV500 Professional Surface Cleaner is a powerhouse of a cleaner. It is an easy and ready-to-use cleaner so that you can feel good about using this surface cleaner at home or around your loved ones.
USE ON ALL SURFACES, INCLUDING THOSE CONTACTING FOOD
Residue and scent-free results on highchairs, car seats, strollers, countertops, changing tables, floors, tablets, toys, laminate, furniture, granite, glass, metal, painted surfaces, plastic, porcelain, ovens, quartz, sealed & unsealed stone, sinks, stainless steel, toilets, vinyl, walls, and any other surface.
STRONG BUT GENTLE 500PPM
Petra ULV500 Professional Surface Cleaner is tough on germs at 500 PPM vs the usual 300 PPM but still gentle. You can use Petra ULV500 Professional Surface Cleaner at your leisure over many months without losing any efficacy. Additionally, a two-step rinse process is not required.
Completely safe to use where you are
THE OFFICE
Perfect for keeping your work table clean and sanitized. Use this product to keep your work areas tidy so you can focus on your work
THE KITCHEN
This product can be used around food and it doesn't leave any traces making it the perfect cleaning solution for the kitchen and the house
THE GYM
Keep your workout feeling comfortable by using this product to clean all those sweaty and smelly areas in the gym, allowing you to focus on staying fit
THE CLASSROOM
This product is great to use around children. It is very gentle to the skin making it the perfect solution for keeping your classrooms clean
How Much Do The Treatments Cost?
Residential & Vacation Rental Mattress Disinfection Services:
First mattress in the home (queen, king) – $75 to $85 (includes UV Light Cleaning at the same time)
Additional Mattresses done at the same time – $55-$65 each (includes UV Light Cleaning at the same time)
*The following services can have UV Light Disinfection completed for an additional charge
Large Sectional – $30
Standard Sofas or love seats – $20
Oversized Chairs – $10
Carpet – $0.25 per square foot
Drapes & Curtains – $0.25 per square foot
Pillows & Children's Toys – $2-$3 each
 Hotels, Nursing Homes, and other facilities that have  large amounts of beds will need to call us directly for special mattress disinfection rates.  
Commercial & Residential UV-C Light Disinfection:
0 – 1,000 sq. ft.  $75-$150
1,000 – 2,000 sq. ft.  $150-$250
2,000 – 3,000 sq. ft. $250-$375
3,000 – 5,000 sq ft $375-$550
5,000 – 10,000 sq ft $550-$700
10,000 – 20,000 sq ft $700-1,150
Commercial & Residential Fogging & Disinfection:
0 – 1,000 sq. ft.  $200
1,000 – 2,000 sq. ft.  $200-$350
2,000 – 3,000 sq. ft. $350-$475
3,000 – 5,000 sq ft $475-$650
5,000 – 10,000 sq ft $650-$800
10,000 – 20,000 sq ft $800-1,250
Ready To Schedule an Appointment or Phone Consultation?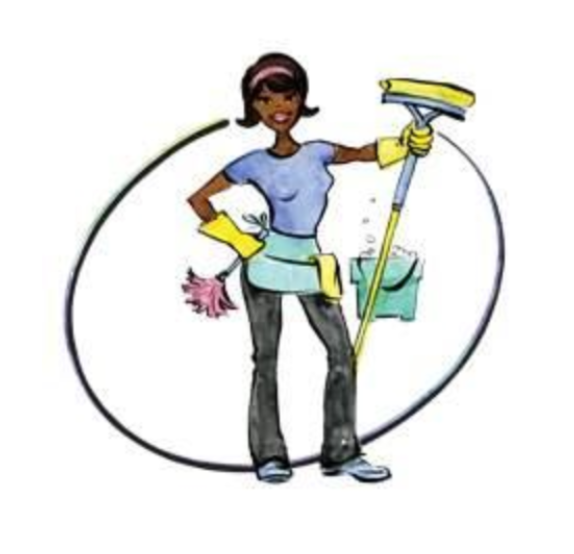 Contact Us Today!  You can schedule a phone call consultation, a FREE mattress examination and more right on this page.   A mattress examination only takes 2 minutes to show you just how much is hiding in your mattress. 
Use the appointment buttons to schedule an appointment.  The can either be found on the bottom if you're on your phone or  in the side bar if you're on your desktop.